Communication (Press, Web and 'Món Jurídic') | Communication and marketing
¡Hazte seguidor de la cuenta oficial del ICAB en Twitter @ICABarcelona!
¡Sigue toda la actualidad del Colegio de la Abogacía de Barcelona (ICAB) a través de la cuenta de Twitter oficial de la Corporación! ¡Ya tiene más de 19.000 seguidores!
Gracias a Twitter podrás ver las noticias más destacadas de manera fácil y rápida. Además, esta red social ofrece la posibilidad de mostrar las fotografías de las actividades más destacadas que se ofrecen en la sede colegial.
Esta herramienta de microblogging también permite la opción de interactuar a través de mensajes, tanto públicos como privados y de debatir y comentar todos los temas que puedan ser de interés para vuestra profesión.
¡Hazte seguidor! ¡Entra en este enlace!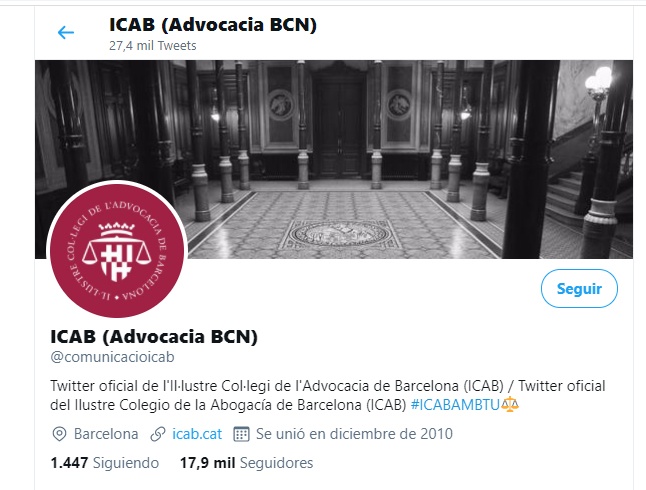 Contact
Comunicación (Prensa, Web y 'Món Jurídic')

93 496 18 85 / 93 496 18 80